Thanks for printing! Don't forget to come back to Zerorez Tampa Bay for fresh content!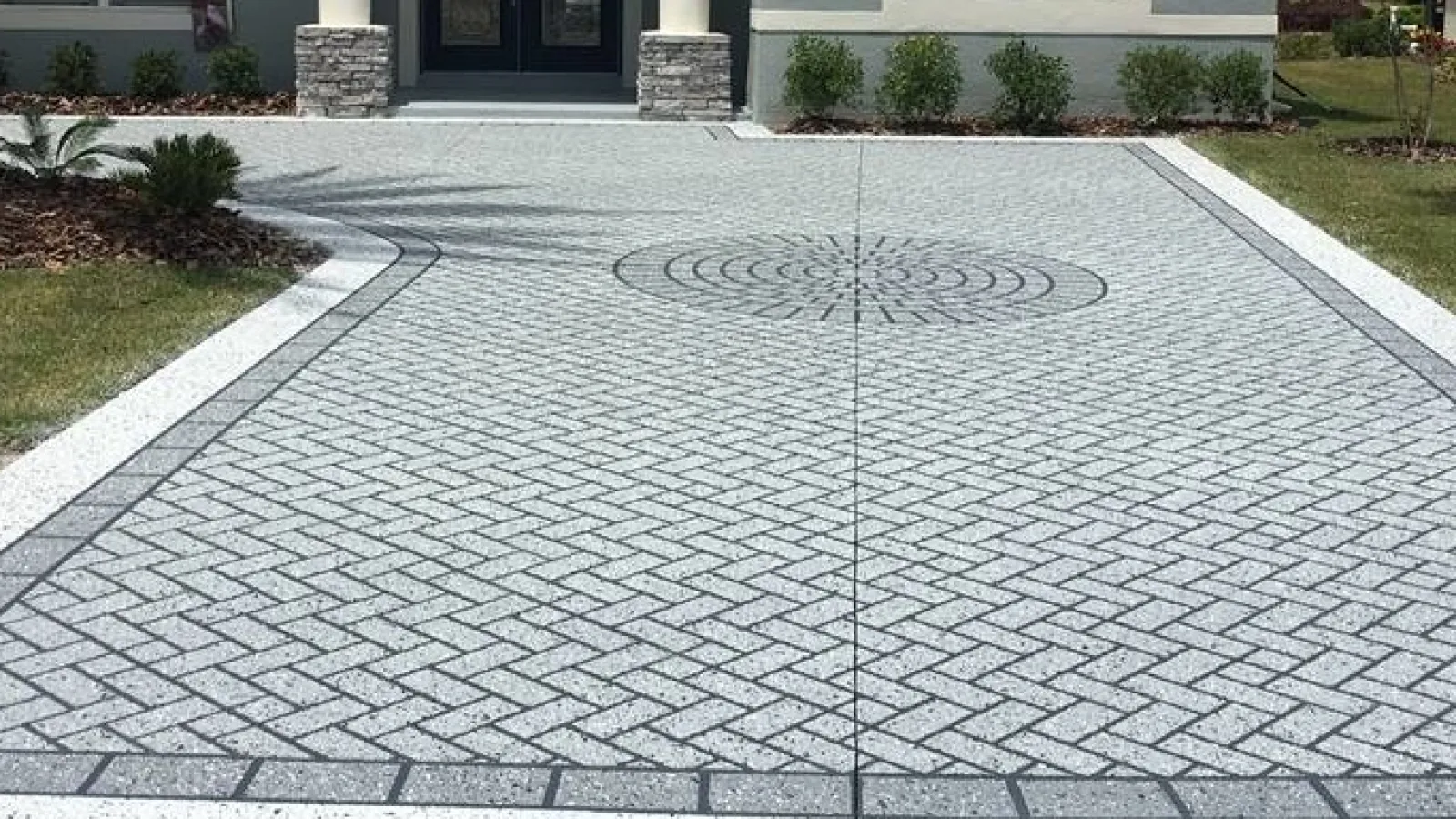 Paver Cleaning
Need to give the exterior of your home a fresh clean? There is nothing fresher than the Zr Water™ technology used by Zerorez®.
Why Zerorez®?
We use our revolutionary technology and Zr Water™ to give your home the clean it deserves - inside and out.
What are Pavers?
Pavers are the beautiful arrangements of brick commonly used on driveways, patios, walkways, and pool decks. Pavers make for unique outdoor flooring that is elegant and ties the yard together. There are so many different patterns and types of pavers you can have installed in your yard to make your space welcoming and more put together.
Why Pavers Need to be Sealed
Paver cleaning and sealing is an important part of keeping your yard looking nice. Your pavers are more likely to fail and fall apart if they are not sealed properly or receive the proper paver maintenance. There are so many benefits to receiving paver sealing services. Once your pavers are cleaned and sealed, the colors of your pavers will be enhanced, mold, mildew, and calcium will be removed, and your outdoor floors will be protected from staining. Sealing pavers will protect your patio against the intense sun and rain and lock your pavers in place so they will not fail.
Zerorez® Tampa Paver Sealing Process
If you are in need of a paver cleaning company to come to your home to clean and seal your pavers, call Zerorez®! Our brick paver maintenance and paver cleaning and sealing services will provide you with everything you need to make your outdoor flooring as good as new once again. Our highly trained Tampa paver cleaners will Power wash your pavers thoroughly Coat the pavers with our nanotechnology paver specific sealer, then Apply a non-slip polymer to the surface After your pavers have been sealed, you will see that the colors of your brick have been enhanced, stains have been removed, and your floors will now be protected from weather and wear. Zerorez® Tampa provides the best paver cleaning Tampa has to offer! Click here to schedule your paver cleaning and sealing appointment today!
Travertine, What is it?
Travertine is a large beautiful stone used for many outdoor settings. It is a stone similar to marble or granite. If you need a clean and nice-looking outdoor material for your back patio or flooring around your pool, travertine is a popular choice.
Travertine Floor Cleaning and Sealing
It is important for travertine stone to be sealed because it is a very porous stone. When oil, wine, snow cones, or other liquids spill on travertine, it will stain and damage the flooring if it has not been sealed.
Benefits of Travertine Floor Sealer
Applying a travertine floor sealer to your patio, driveway, or pool deck will protect it from staining, the intense sun, rain and even helps prevent the formation of mold and mildew. The non-slip polymer surface we use at Zerorez® Tampa after sealing your travertine will make your surface less slippery when wet than it was when unsealed and dry!
Zerorez® Tampa Travertine Sealing Process
Living in Tampa, we know that your lifestyle likely includes a lot of time outside. We offer you the best service the industry has to offer with our travertine floor cleaning and sealing process. First, we thoroughly power wash the floor. Then use a coat of nanotechnology travertine paver sealer. Lastly, we apply a non-slip polymer surface coating. You will love the finished surface texture. It allows your bare feet to comfortably grip your outdoor slope without slipping and without scuffing the bottoms of your feet.
Why is Concrete Sealing Important?
Concrete is popularly used in homes for driveways, pool decks, patios, walkways, garages, and more. When concrete is left unsealed, liquids such as water, oil, rust, chemicals, and more penetrate the concrete and are soaked up like a sponge. Penetration of liquids into concrete can cause mold buildup and staining. To keep your outdoor concrete floors looking and feeling their best, look into how concrete floor sealing companies can help you!
Benefits of Sealing Concrete
Concrete is very porous. Because it is such a porous material, it is essential to properly seal your concrete outdoor areas. A concrete sealcoating done by Zerorez® will increase the tensile strength by up to 30%, delaying the development of cracking or chipping of your concrete. Concrete sealcoating will also waterproof your floors, provide protection from the hot Florida sun, reduce the chances of charking, dusting, and efflorescence, provide stain protection, and extend the life of painted or decorative concrete.
Zerorez® Tampa Concrete Sealing Services
When you reserve a time for an appointment with Zerorez® Tampa concrete sealing services, this is what you can expect from us:
Clean and degrease your concrete with our pre-treatment
Remove any oil, rust, or stains
Thoroughly power wash the flooring
Post-treat with concrete brightener
Rinse flooring with high pressure
Apply our one coat concrete sealer
When booking with Zerorez® Tampa, you can also expect a fast process! We will be in and out of your home quickly so that you will be parking in your garage and playing in the pool sooner. Your concrete will be completely slip-resistant when we are done, and your floor will be protected and beautiful.